Did I grab your attention? If you are reading this then I assume yes! Yes I did.
As a woman, posts, articles, magazine headlines and...infomercials...yes, you read that correctly infomercials...sometimes suck me in. Especially, when it has to do with improving my skin. I am the lucky chick who was blessed with incredibly oily skin and I have been blessed with Adult Acne. *insert sarcasm*
I have struggled with my skin my entire life. Or maybe at least since I was 12 or 13. I had it bad y'all.
The only time my skin is flawless and beautiful is when I am pregnant. And lets get real people, I can't be pregnant everyday for the rest of my life. I mean...no, just No!
I have tired every product known to mankind. I have tried drug store remedies, prescriptive creams and washes, pills, Proactive, Mary Kay and so many others. Some worked for a while, others not at all and some made my face feel like it was going to crack open if I attempted to make any sort of expression. This is a sad sob story of my poor pitiful skin but its real life.
My face is the breeding ground for one of my biggest insecurities.
I hate my breakouts.
I hate my oily skin.
I hate my gaping pores.
I hate feeling like people are talking to the pimple on the end of nose that makes me resemble Rudolf, rather then actually talking to me.
It is a vain insecurity but it is one that genuinely bothers me and one that I know is fixable. I have just needed to find the right solution.
With that, here are 2 Ways to Improve Your Skin and Have the Face You Always Wanted.
Now, I what I am about to tell you is seriously going to CHANGE YOUR LIFE and face.
If I did not believe in this then I would not be promoting it. I only promote things to people if I genuinely believe in it. This...this I believe in.

So 2 ways:


1)
Identify your skin issue. Whether you are like me and you need help combatting your adult acne or you want to revive your dull lifeless skin into youthful glowing skin or you want to reverse and slow down those lovely age lines we resentfully call...
wrinkles
.
2)
Order yourself some products from Rodan + Fields. You will thank me. I promise.

Out of all the products I have tried, and I have tried many, THIS product is the best. I am currently documenting my personal "before and afters" photos. I will be brave and show my "foundation-less" to those who are wanting to better their skin and have the face you have always dreamed of having. If we are all honest with ourselves, I think we can all admit that our skin is a big deal to us. Especially the skin on our face. Everyone sees it and every sees its flaws.
Rodan + Fields
offers several skin care lines. The one I am using is called
UNBLEMISH
.
Here is what their website says about UNBLEMISH: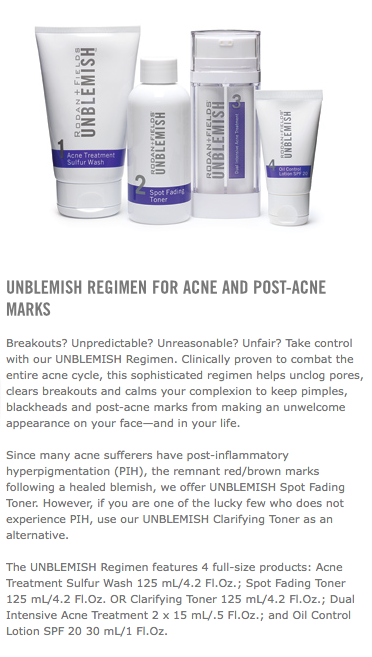 They also have:
REDEFINE
.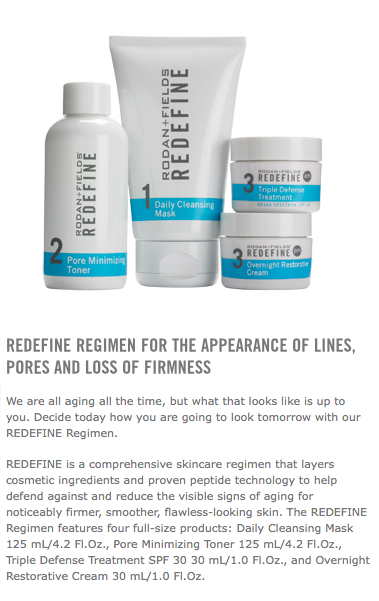 REVERSE
SOOTHE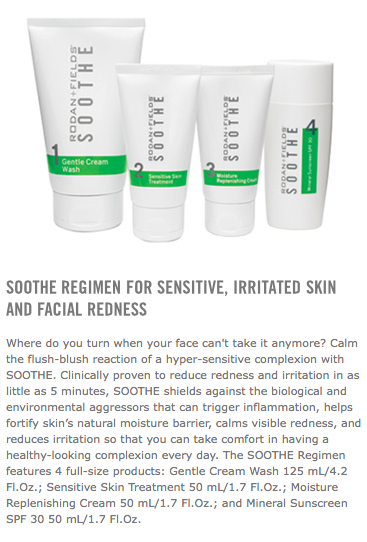 This product is seriously amazing. I know this is a different kind of post from my norm but I couldn't pass up the opportunity to share with you a product and business that I am loving. If you would like more information I would LOVE for you to email me so that I can hook you up and get you on your way to better healthier looking skin. Also if you are interested in the business side of the company I would love to chat with you about that as well. There are amazing opportunities for you if are interested in joining my little team. I have watched this company change the lives of several personal friends. Below you will find my website and contact information.
Website:
https://jennaknight.myrandf.com
Email: jennaknight(at)gmail(dot)com
//all images from
R+F.com
//