"No pen can give an adequate description of the all-pervading corruption produced by slavery."
- Harriet Ann Jacobs
This is the opening line in the
About Us
section on
Beautiful & Beloved's
website. Beautiful & Beloved's vision is "to make a simple path for you to support individuals freed from slavery who are now empowered to earn a living in a safe, clean and just way."
Amber, with Beautiful & Beloved, emailed me a couple weeks ago and asked if I would be interested in partnering with her to get the word out about her online boutique called Beautiful & Beloved, which has recently developed into a store front boutique. Yay Amber! After reading the opening paragraph on Beautiful & Beloved's webpage, I couldn't wait to jump on board. I mean how could I not be thrilled? Purchasing with Purpose to empower others is kinda my thing. I love it! And this is exactly what Beautiful & Beloved stands for.
The merchandise is beautiful and unique and each piece dignifies a survivor of human trafficking or living in extreme poverty conditions. Their desire is to help create awareness of the human trafficking epidemic and to also bring a practical way for you to support the men and women who are affected by this. "Each item is hand crafted by someone who is now free to earn and create." I love that.
Amber was kind enough to send me this clutch from their site. I am in LOVE.
"Theis fabulous clutch is not only hand made by amazing survivors in Cambodia, it is also made from repurposed materials. Recycled coffee bag material makes up the outer body of this beautiful clutch and it is embellished with lace trims on the front flap. The interior of each clutch is made with fabric remnants so each clutch is completely unique. This clutch is handmade by men and women being restored from lives of exploration."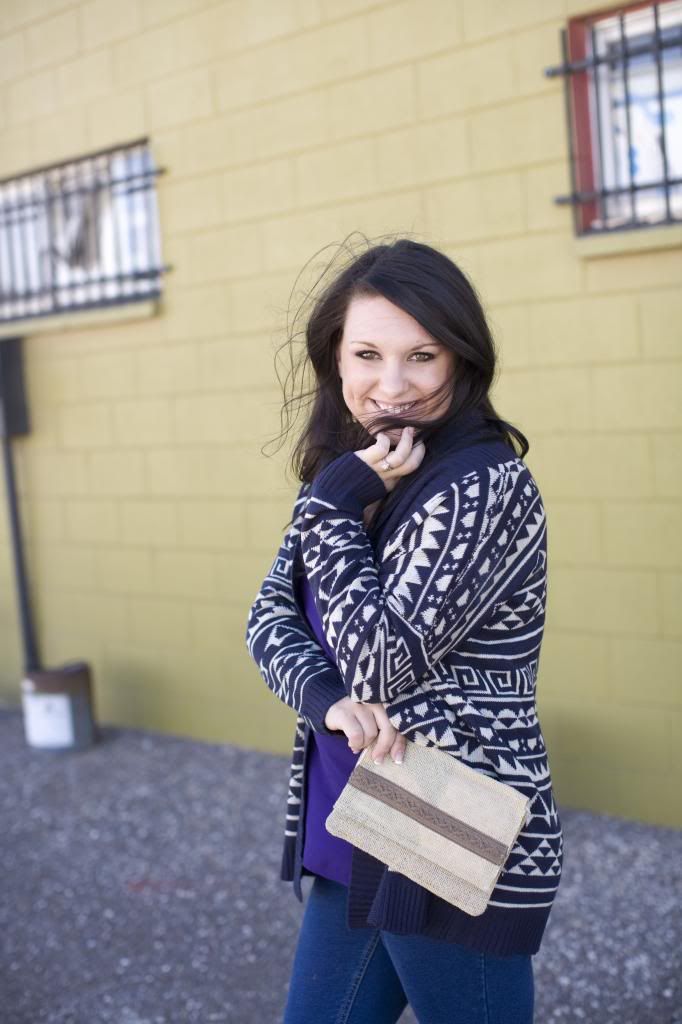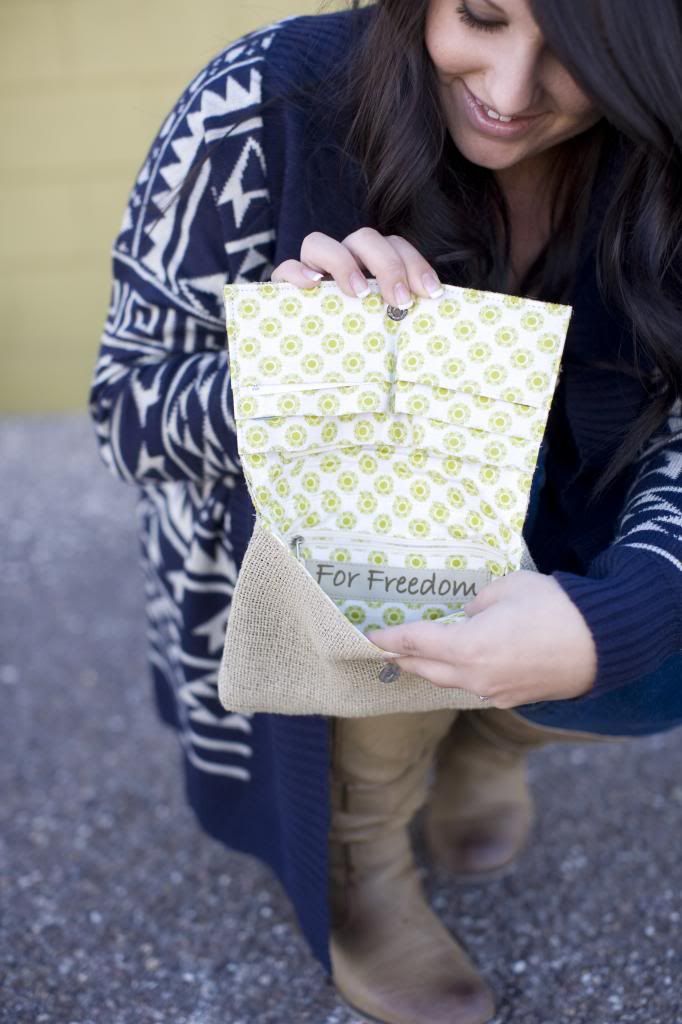 I love everything about my new clutch. I have been using it as my every day wallet/purse pouch. I just throw it in my purse and take it out when I don't want to carry my whole bag. I am able to stick my debit cards, insurance cards, IDs, cash and whatever else in these perfectly sized slots. My phone, lip gloss, lotion and a little notebook and pen fit perfectly in the bigger main pouch. I also ADORE the
"For Freedom"
label that is sewn into the fabric. It is a great daily reminder to be praying for the freedom and restoration of so many women, children and men who are victims of exploitation and slavery.
There are so many other amazing things on Beautiful & Beloved's web boutique. Here are some of my favorites: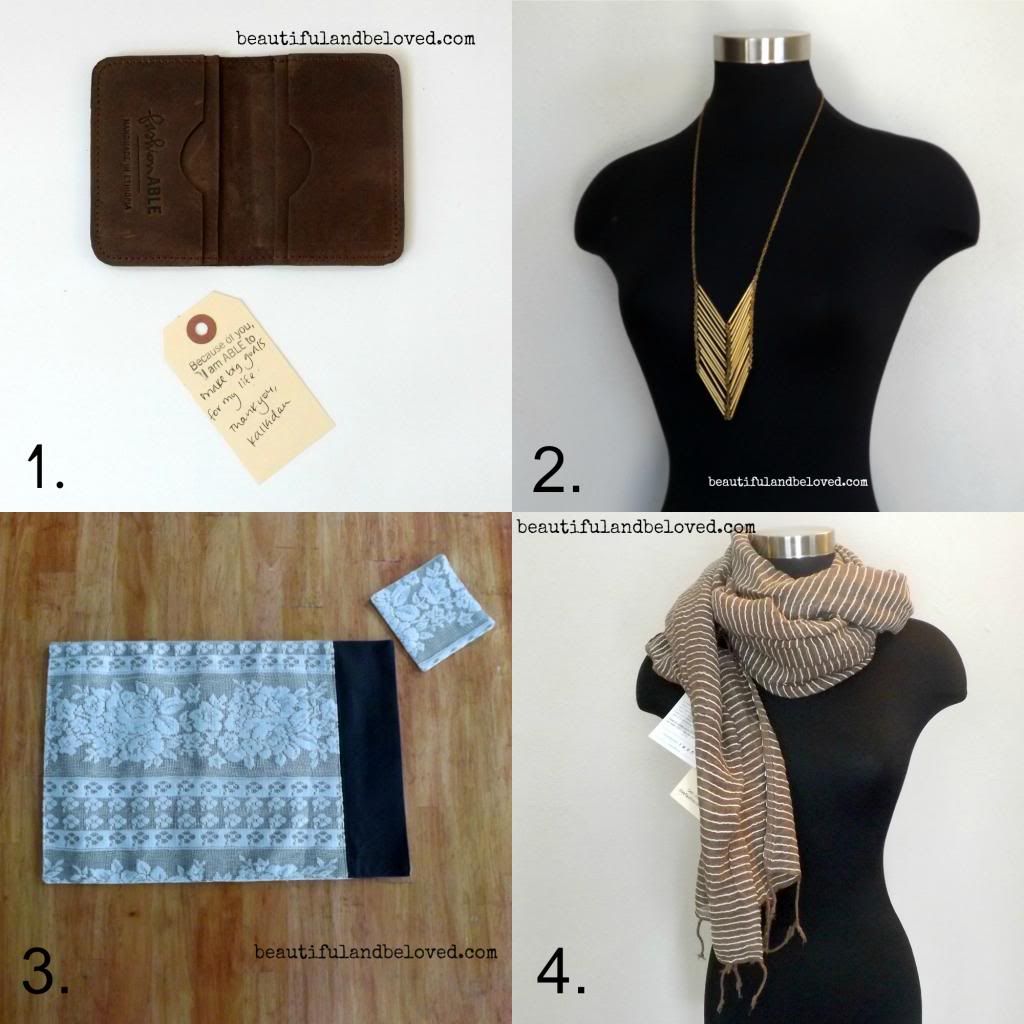 Your purchases can really make a difference in someone else's life. I encourage you to explore purchasing with purpose to empower this holiday season. I have a feeling you will be hooked.